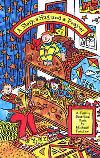 This is Book 1
Book 2 is now available.
A story, a hug and a prayer 2 by Michael Forster
ISBN : 1-84003-693-1
Publisher : Kevin Mayhew
Our Rating :

This book contains a collection of 40 Bible stories retold by Michael Forster in a fresh and engaging way. Each is followed by ideas to very simply discuss how the story relates to the child's own life. Prayers are suggested for each section to give thanks to God, to say sorry to Him, and to pray for others.
An excellent book to encourage the child and adult to talk openly about - and to God.