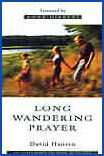 Long Wandering Prayer by David Hansen
ISBN : 1-8410.1026-X
Publisher : Bible Reading Fellowship
Our Rating :

If you find yourself challenged by finding a regular prayer time, then consider walking with God. David Hansen writes, "Long wandering prayer involves leaving our normal environment for the express purpose of spending several hours with God alone, but not secluded. It involves walking, or at least moving, so that we can stop at any time and consider a lily for an unpredictable length of time. Long wandering prayer uses the fact that our minds wander as an advantage to prayer rather than as a disadvantage."
Time spent in this way offers the prayer refreshment, encouragement and peace, and as you spend the time walking and praying, your relationship with God will be strengthened.